Cancer Fighting Benefits of Garlic
Garlic is part of the lily plant family. It's scientific (botanical) name is Allium sativum, and it's been used to treat tumors for centuries. In fact, garlic is listed in ancient Egyptian medical texts from 1550 B.C. (i.298)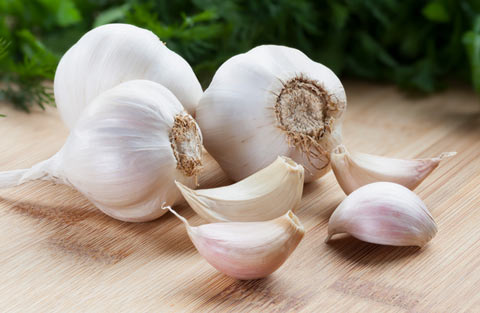 How Does It Work?
Besides the many delicious culinary uses for garlic, the herb contains compounds that are good for you — including many with cancer-fighting effects. (i.299)
Beneficial compounds include:
Ajoene (Z- and E- forms) (i.300)
Allyl-propyl sulphide (i.302)
Apigenin (i.303)
Calcium (i.301)
Copper (i.301)
Iron (i.301)
Riboflavin (vitamin B2) (i.301)
Vitamin B6 (i.301)
Vitamin B12 (i.301)
Vitamin D (i.301)
Garlic also contains 17 amino acids, and immune-boosting proteins known as garlic lectins. (i.301, 306)
Many of the helpful compounds in garlic have antioxidant and anti-inflammatory effects which help fight cancer. Garlic may also prevent damage from toxins that are linked to cancer — including nicotine. (i.299, 304, 307)
Garlic also specifically targets proteins that promote cancer growth. Research indicates that garlic compounds affect those proteins and cell processes only in cancer cells, without negatively impacting healthy cells. (i.299, 304)
Evidence of Anticancer Effects
Garlic has been tested in various forms, including aged garlic extracts, garlic powder, and isolated garlic compounds. Studies show that garlic and its compounds can halt tumor growth, block metastasis, and outright kill cancer cells. (i.308, 309)
Garlic can also improve immune system function and prevent organ damage caused by chemotherapy cancer treatments. In fact, garlic's immune boosting cancer fighting effects are comparable to immunotherapy approved for cancer treatment. (i.309-311)
What types of cancers do garlic compounds show benefit against?
Type of Cancer
Effect of Garlic
Bladder cancer

Lab studies

Promotes cancer cell death. (i.312)
Suppresses cancer cell growth. (i.312)
Blocks invasion and migration of cancer cells. (i.312)

Garlic extract stimulates production of heat shock proteins. These proteins help guide cell functions when they're under stress. (i.312)

Dietary garlic has comparable effects to BCG immunotherapy for bladder cancer. (i.311)

(glioblastoma)

Lab and animal studies

Diallyl trisulfide compounds in garlic significantly block the most aggressive form of brain cancer, without damage to liver cells. (i.313)

(including triple negative)

Lab and animal studies

Garlic contains selenium, but garlic grown in soil fertilized with selenium works better against breast cancer. In animal studies, selenium enriched garlic is effective in preventing progression in the early stages of breast cancer. (i.305, 315)

In a hospital-based case control study, higher consumption of garlic was linked to lower rates of breast cancer. (i.316)

Cervical cancer

Lab studies

Diallyl disulfide compounds from crushed garlic improve the ability of radiation to kill cervical cancer cells. (i.317)

Colon cancer

Lab, animal, and clinical studies

Diallyl trisulfide compounds in garlic reduce levels of enzymes and growth factors that promote growth and metastasis in colon cancer. (i.318)

Aged garlic extracts may improve survival time in patients with advanced colon cancer. (i.310)

Gastric cancer

Lab and animal studies

Trisulfide garlic compounds also reduce the negative side effects of chemotherapy drug cisplatin. (i.319)

(chemoresistant acute myeloid leukemia)

Lab studies

Anti-inflammatory trisulfide compounds from garlic could also help overcome resistance to chemotherapy treatment. (i.320)

Liver cancer and intrahepatic cholangiocarcinoma

Lab, animal, and clinical studies

Aged garlic extracts may improve survival time in patients with advanced liver cancer. (i.310)

(lung adenocarcinoma)

Lab and animal studies

Sulfide compounds from garlic significantly trigger apoptotic cell death in lung cancer cells. Trisulfide garlic compounds also reduce adverse the negative side effects of chemotherapy drug cisplatin. (i.322, 323)

(skin cancer)

Lab and animal studies

Ajoene compounds from garlic have been tested on melanoma skin cancers. (i.324, 325)

Pancreatic cancer

Lab studies

Trisulfide garlic compounds also arrest pancreatic cells within the cell cycle, stopping cancer cells from replicating. (i.326)

Aged garlic extracts may improve survival time in patients with advanced pancreatic cancer. (i.310)

Prostate cancer

Lab and animal studies

Trisulfide garlic compounds significantly reduced tumor growth without causing weight loss in animal studies. (i.327, 328)

Prostate cancer depends on dysfunctional androgen hormone signaling to develop. Garlic's sulfide compounds also promote hydrogen sulfide, a compound that blocks activation of androgen receptors. (i.329, 330)
Garlic also reduced incidence of and deaths from gastric cancer in people with increased risk of the disease. However, the results of the long term study were not statistically significant. (i.331)
Aged garlic extracts were given daily to patients with various advanced, inoperable cancers, including: (i.310)
This was a 6 month randomized double blind clinical trial. Results showed no improvements in quality of life. However, the aged garlic extracts significantly increased the immune system's natural killer (NK) cells. (i.310)
Moreover, those patients who took placebo and had a 25% or more reduction in NK cells died within 3 months. None of the patients who took aged garlic extracts had this dramatic reduction of NK cells. The researchers stated this suggests aged garlic extracts may help prevent cancer-related death. (i.310)
Other Health Benefits of Garlic
Besides antioxidant and anti-inflammatory benefits, garlic also boosts immune system function and has antimicrobial activity. (i.301, 306)
Animal studies suggest garlic, fermented garlic, garlic juice, aged garlic, and garlic extracts may help with the following health conditions:
Essential oil from garlic is also beneficial to brain development. Studies suggest garlic may protect skin from the aging effects of the sun. (i.346, 347)